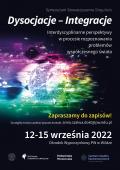 The Singularis Association Symposium DISSOCIATIONS -INTEGRATIONS will be held at the Warsaw University of Technology Center in Wilga from September 12-15, 2022.
As a result of the settlement of the 2nd competition for teaching grants at Warsaw University of Technology, the Competition Committee awarded funding to 11 projects.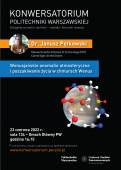 The lecture entitled ā€˛Venusian Cloud Anomalies and the Search for Signs of Life in the Cloudsā€¯ will be given by Janusz PÄ™tkowski, an astrobiologist affiliated with the Department of Earth, Atmospheric and Planetary Sciences at the Massachusetts Institute of Technology (MIT).