Results of the second competition for teaching grants at WUT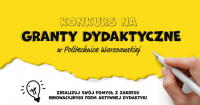 As a result of the settlement of the 2nd competition for teaching grants at Warsaw University of Technology, the Competition Committee awarded funding to 11 projects.
In accordance with the Rules of the competition, attached to the Rector's Decision No. 133/2022 of May 25, 2022, the rules for the use of funds awarded for the implementation of the project, according to the application submitted, are specified in Appendix No. 2 to the competition rules. The requirement for the start of the project is the signing of the Agreement, according to the model specified in Appendix 3 to the regulations. The Agreement with the implementing units is developed by the IDUB Project Office.
published 19.08.2022